About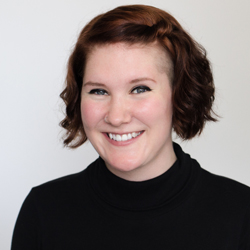 Two defining facts about me:
I'm half-Canadian and half-Norwegian and I was raised equally in both countries.
I have an Honours Bachelor of Arts from Victoria University in the University of Toronto, with a specialist in Theatre Design & Production and a minor in English literature.
I made my first "website" (I use that term loosely) with Microsoft Publisher in 1998, and then progressed through a series of drag-and-drop site building programs. Around 2005 I ventured into the world of hand-written code and stylesheets, and I haven't looked back. I started freelancing in 2008 and I've been doing this full-time since 2011.
I like nib pens, black tea, alphabetizing my bookshelves, and raw code. I'm not too fond of chalk pastels, development frameworks, the waterfall model, or loose glitter. I feel incredibly lucky that what started as a nerdy hobby turned out to be a marketable skill.
I share my cozy office and my life with a rambunctious cat named Ronja.
Want the formal, third-person version?
Linn Øyen Farley runs the independent web design & development studio Drollic Design in Toronto, Canada. Since 2008, Linn has helped arts organizations and small businesses take control of their online presence by building websites for them that look beautiful and are easy to update. She strongly believes in accessibility, low overhead, and empowering clients. When she's not making websites, you can find her teaching classes at Camp Tech… or in Norway.
About Drollic
droll·ic adj. [rare, 18th c.] Of or pertaining to a droll or puppet-show
Puppet shows strive to be visually interesting and captivating to their audiences, while backstage it's crucial that the strings are organized, easy to use, and highly functional in the hands of the puppet master. Similarly, it's essential that your website is attractive and engaging, and it's equally important that the code is clean, standards-compliant, and built on a system that puts you – the website owner – entirely in control.
de·sign v. Decide upon the look and functioning of a building, garment, or other object
In theory, design should take both appearance and functionality into consideration. In practice, too often one gets sacrificed for the sake of the other. I believe in building well-designed websites in both senses of the word: visually and functionally. Useful design.
Collaborators
Drollic is mostly a one-woman show, but if a project calls for an extra hand, I'll bring a trusted collaborator on board. I choose the people I work with based on both their skills and their personality. I think you'll appreciate the combination too!
Leeann Drees
Web design & development
Leeann is a cyclist, cat enthusiast, and the Community Manager for Girl Develop It Detroit where she teaches HTML, CSS, and WordPress. Her specialty is building WordPress sites for small businesses and entrepreneurs. She's one half of the friendly web studio ellell & co.
Kinnon Elliott
Illustration, graphic & brand design
Kinnon is an award-winning illustrator and designer based in Toronto's Leslieville neighbourhood. Her focus is print, custom illustration, logo design, and brand development. She loves editorial illustration, infographics, children's book illustration, greeting cards, mid-century modern, month-long trips, and other people's pets.
Avery Swartz
Web design
Avery is an award-winning web designer, consultant, speaker, and instructor. She brings her friendly, casual approach to web projects for small businesses, arts organizations, and nice people looking for something just a little bit different. Avery also runs Camp Tech and is the Web Director of the Art Canada Institute.
Helen Tremethick
Content writing & strategy
Helen is a writer, brand personalization expert, and content strategist who staunchly believes that communicating your unique self is the driving factor behind your success. She specializes in helping micro-business owners with the brand voice and web content that connects with their clients, and the empowerment that comes with clarity.
Ronja Røverdatter
Office cat
Ronja has extensive experience developing and maintaining nap spots, efficiently consuming large amounts of food, and encouraging a healthy work/life balance. She enjoys participating in client meetings, whether on-site or remotely via Skype.
Colophon
(About the site)
Launched February 3rd 2007
Latest project added February 10th 2015
Things that make my job easier
I use & love all of these companies. If you sign up using these links they'll love me back, but you can also go directly to their sites if you'd prefer!